On average, around 40% of household water is used outdoors, so it is important to reuse and recycle water[1]. Reducing freshwater usage around the home can significantly decrease household water bills and also has a broader community benefit in reducing demands on public water supply.
Nylex is proud to be a major partner of National Water Week and the Australian Water Association and is dedicated to inspiring a more sustainable water future through its grey water and recycled water products.
Grey Water
Rec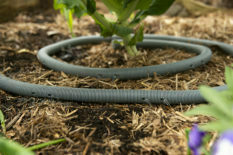 ycling your household grey water is a great way to save the environment and reduce your water bill. Grey water is the used water from your bathroom sinks, showers, tubs and washing machines. It may contain traces of dirt, food, grease or household cleaning products, but it is still a safe and great source of irrigation water for your garden.
The easiest way to use grey water it is to divert it outside directly from the source. Nylex has a range of products that can help with these simple grey water diversion systems and they are easy enough to set up yourself.
The most common source is a washing machine. Using this as the source example, you will need a diversion hose, an adapter to connect it to your washing machine outlet pipe and a dispersion hose. These hoses and adapters come in different sizes to suit your requirements.
Once you've connected the diversion hoses to your washing machine, add a dispersion hose and position it in your garden. The small holes in the dispersion hose help to distribute the water out evenly and prevent pools of grey water forming. You can put the dispersion hose on lawns, around fruit trees, or in garden beds, and move it around depending on your plants water needs.
Here are some tips to keep in mind when using grey water:
Don't store grey water for longer than 24 hours otherwise harmful bacteria may form.
You can cover the dispersion hose with mulch
Use grey water suitable household products and detergents
Grey water can be used to water vegetable gardens, so long as it doesn't touch the edible parts of the plants.
See our range of grey water hoses and accessories for more information.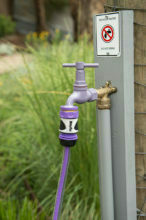 Recycled Water
As we become more focussed on sustainability in Australia, it's more common for residential areas to have access to recycled water.
If recycled water is available from your local water authority, it will be connected through separate plumbing. Australian standards are in place that require all recycled water taps must be lilac in colour and have a 'DO NOT DRINK: RECYCLED WATER' warning sign. Recycled water is not safe to drink BUT it is perfect for watering lawns and gardens including fruit and vegetable plants.
Nylex has introduced a range of watering accessories in lilac to be used with recycled water outlets to indicate recycled water is in use. Using lilac watering accessories for your recycled water helps avoid confusion from family members and visitors about which water points are safe for drinking and outdoor water play. The range of watering accessories includes hoses, sprinklers and spray guns that can also be used with mains water.
See our range of recycled watering accessories for more information.